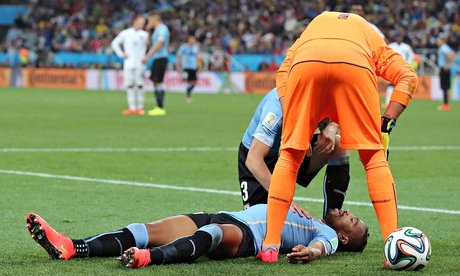 If you live under a rock or have been hanging out at Walter White's hide-a-way cabin then you probably haven't noticed anything strange. However, Twitter, Facebook, the global news, armchair quarterbacks, and the world player's union has been up in arms about Álvaro Pereira's head injury in the world cup match between Uruguary and England.
In case you didn't see it...Pereira suffered a blow to the head that rendered him unconscious. Nevertheless, he was allowed to continue to play despite that the team physician for Uruguay motioned for a substitution for Pereira. I won't delve too deeply into a play-by-play of the event but Pereira exhibited these obvious signs and symptoms of a concussion:
loss of consciousness
poor/altered balance and motor control
Mood Swings

Angrily signed to decline substitution
repeated apologized for being "dizzy"

Self-reported anterograde amnesia, couldn't remember much directly after being hit

"It was like the lights went out a little bit."
Nevertheless, Pereira continued on and was allowed to play. FIFA has come under much scrutiny in the past couple of days because of this. My first reaction however is instant disapproval and disappointment with the medical staff and Pereira's own teammates. I shouldn't jump to conclusions because I do not know the true policies and procedures for the medical staff, team and the individual.
Regardless, knowing what I know and what the medical staff should know this decision was inexcusable. This stage...the WORLD CUP...sets a huge precedent for children, young athletes, parents and coaches alike of how concussions are/should/could be treated. It is disappointing and unacceptable.
I honestly make the argument that if I was the team doctor or physio/AT and this event occurred in front of my eyes then I would interrupt the game until Pereira was substituted or I have to be dragged off the field forcefully without Pereira and be relieved of all responsibilities related to this event. I don't know how a teammate, comrade or brother-in-arms would comfortably feel OK with him continuing to play. This wasn't a possible head injury with shades of grey...it was an obvious one that was black and white and clear as day.
Some might argue that Pereira made his own choice, he is a professional, and that this is his life and he should be allowed to make this decision. To me that is akin to saying that a boxer should be able to continue after being knocked out if they want, to allow a race car driving to continue after racing after sustaining life threatening injuries or allow mentally impaired (drugs or alcohol) individuals/patients with brain damage to make their own decisions.
There is a reason people have living wills, are not allowed to drink and drive or get tattoos under the influence of alcohol and etc. I have never met or evaluated an athlete that wanted me to remove them from competition after sustaining a head injury. They are all brave, courageous and have an incredible drive to compete but they can also make utterly ridiculous and stupid decisions at the same time.
I know that some of you may not agree with this whole-heartedly or may be vehemently against my opinion. However, I am trained to do no harm. Protect and prevent my patients from hurting themselves and others or potentially injuring themselves further. We wouldn't allow Pereira to continue to play with a fracture but one might be able to argue that the risk of permanent bodily harm or death is more likely with the injury that he did sustain that he was allowed to play with. Pereira is a defender on the field but where were the people that should have been defending him? I guess that is enough ranting for one weekend.