Howdy Readers! A lot of people like to talk the talk when it comes to assessing running gait/form. However, a lot of what people seem to say regarding gait sometimes boils down to just that...all talk. Some people look at a still frame or picture of an individual running and make claims based off of one moment in time. Somebody hook these people up with Miss Cleo because they must be able to look into the past and the future! Amazing!
In reality, there are very specific things that you should be looking at from very specific reference points. Specifically, to best evaluate a person's running gait you would want to be able to evaluate their form from both frontal plane and sagittal plane views. Do you know what they are already? Well I didn't have this handy dandy knowledge until after I attended the Healthy Running conference (
see my review here
) and learned this from Dr. Mark Cucuzzella and Jay Dicharry, MPT, CSCS.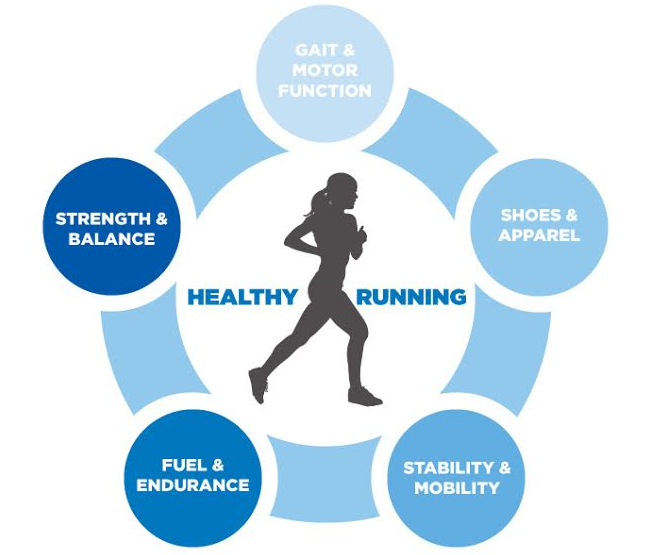 Before this I put most of my faith into my clinical assessments and often shied away from visual gait assessment. You shouldn't try to separate these two entities...they should be combined together to draw conclusions. There were two main reasons for this. One, I didn't have a nice high-speed camera for this. It is pretty difficult to be sure of what you are seeing unless you have the ability to record at higher frame-rates. Secondly, I didn't have this nice little handy-dandy checklist that I am about to share with you. Note: Please remember to compare left to right for these items when possible.
Frontal View
Back when I first started running, on the left in the white.
Excessive Heel Strike!!
The Frontal View
Step Width

Narrow, Neutral, or Wide?

Arm Movement

Abducted, Cross-over, or In-line?

Trunk

Ipsilateral, Neutral, or Contralateral tilting/lurching?

Hip Stability

Adduction vs. Abduction?
Internally vs. Externally Rotated?
Neutral?

Dynamic Knee Alignment

Valgus vs. Varus vs. Neutral?

Midstance Foot Position

Supinated vs. Pronated vs. Neutral

Cadence
Other Abnormalities?
The Lateral View.
The Lateral View
Vertical Displacement

<4cm li="" limited=""> 4cm>
4-6cm = Optimal
>6cm = Increased

Arm Movement

Excessive anterior/forward motion
Neutral
Excessive posterior/backward motion

Torso Orientation

Anterior vs. Posterior vs. Neutral

Lumbopelvic Posture

Lordosis vs. Neutral vs. Flat

Hip Extension during Toe off

15-20 degrees = normal
5-15 degrees = limited
<0 degrees="severely" li="" limited="">0>

Knee Excursion during Stance

>25 degrees = flexed
20-25 degrees = optimal
<20 degrees="stiff</li">20>

Foot Strike Pattern

Heel vs. Midfoot vs. Forefoot
Neutral Contact point vs. Foot contacts anterior to COM (Center of Mass)
We all run different, but there are general things that we should look for and look to avoid for all running gaits!
Conclusion: There you have it folks! A simple check list to use for each view! I don't really use a posterior view anymore but you could still use the frontal view checklist for a lot of the same things that you might see on the posterior aspect. Additionally, don't assume that a duck is a duck when performing these analyses. Just because a person runs with zero hip extension does not necessarily mean that they have zero hip extension! Check their passive mobility! This could easily be a stability or motor control problem.
Another example of this could be that just because you see something like excessive dynamic knee valgus don't assume they have a weak set of glutes! It could be due to poor ankle dorsiflexion that produces compensatory subtalar joint pronation and then causes compensatory knee valgus. Practice these assessments to work on being able to assess these things individually but quickly. You want to get to the point where you notice the "abnormal" instead of having to check for "normals" everywhere.